Weekly introduction to new artists on SuperRare.
Jesse Draxler has been a prolific & influential creator in the metaverse since the early days of Tumblr. His multi-disciplinary work marries elements of fine art, illustration, photography, fashion, & digital applications. Draxler has had solo exhibits in LA & NY, & has been in exhibitions across Europe. Draxler collaborates with Hugo Boss, McQ Alexander McQueen, Ferrari, & more. He also works closely with the music industry creating artwork for Prince, NIN, Daughters, & Poppy, amongst others.
---
Los Angeles, CA
Journalist and multimedia artist watching for what we can't perceive.
---
Boston and Budapest
Lead by Albert-László Barabási, BarabásiLab is one of the most influential labs in network science. It brings together scientists, designers, and artists, united by a desire to understand networks and complexity. Over 25 years, BLab has pioneered the visual language of networks and DataArt like the Art Network, the NFT Universe, and the award-winning Nature150 anniversary work. The BarabasiLab's work is the subject of exhibits at ZKM Karlsruhe and Ludwig Museum of Contemporary Art in Budapest.
---
Berlin, Germany
digital collage artist
---
UK
Animated loops that mix satisfying motion, character and lots of humour.
---
Paris
Artist x Director
---
?
I´m a Visual Mutant.
♥
---
London
REK0DE's work asserts itself as highly distinguishable in the field of 3D motion graphics. The imagery is fully engaging to viewers, presenting as a visually stunning curiosity all on its own. There is an elaborate level of detail that goes into each work that REK0DE crafts. It is remarkable to notice the nuanced concepts executed throughout, succeeding in peaking the marvel of audiences with its futuristic imagery and neoteric edge of design. Bio author: Jamie Favela – Visual Atelier 8
---
I am a visual philosopher combining the power of photography and film to capture the essence of nature, intimacy, and the sensuality of the female form.
---
Southern California
Eric Rubens is a Southern California based photographer who has grown an audience of nearly 1 million across his social platforms. Growing up on the California coast, he was captivated by color and the energy of the ocean. He formerly played professional tennis and worked as an engineer, before dropping it all to pursue his love of travel and photography. Some of his clients include Sony, Disney, Four Seasons, United Airlines, BMW, American Express, Belmond, Callaway Golf, and more.
---
New York
AICAN is conceptual art generated by AI in response to the question:
If we teach the machine about art and styles and force it to generate novel images that do not follow established styles, what would it generate? Each artwork is autonomously generated as an answer to this question. AICAN is created by artist and academic, Dr Ahmed Elgammal. AICAN is the first and only patented autonomous AI Art generation algorithm. AICAN has been widely exhibited worldwide.
---
Pleasure for all.
---
NYC
Nicole Ruggiero is a 3D visual artist from NYC whose work concentrates on technology and the emotional and social culture around it. Nicole creates stills, animations, and interactive AR and VR experiences and has exhibited her work internationally. Her most recent works explore themes of digital identities, online romance, sexuality, internet subcultures, escapism, virality, and meme humor.
---
---
Berlin, Germany
The conceptual artist Andy Kassier (*1989) lives and works in Berlin. His work includes installations, performances, photography, videos, sculptures and painting.
In 2013 he created his alter ego Andy Kassier, who ironically breaks the narrative of wealth and happiness in late capitalist society. On Instagram and in international solo and group exhibitions he continuously develops the long-term performance. Kassier observes phenomena in social media and the development of digital image cultures.
---
Los Angeles, CA
Hyperloop Transportation Technologies (HyperloopTT) releases the world's first hyperloop-inspired non-fungible tokens (NFTs). The winning bid of each auction will receive an exclusive invitation to visit HyperloopTT's closed-to-the-public research facility to see the world's only full-scale hyperloop test track in Toulouse, France. The artwork was created in collaboration with Popular Science cover artist Tavis Coburn to commemorate the work being done in the Great Lakes Megaregion.
---
Brooklyn, NY
Carlos is a Venezuelan Illustrator, he is currently living and working as a freelance artist in NYC. His work is colorful, fun and has a humorous twist to it. He brings inanimate objects to life at times and he is able to find solutions to complex assignments through the use of symbolism and dynamic compositions. His influences include pop art, toys, abstract art, architecture and surrealism.
I make surreal art based on my life experiences and journey from now I was bed bound for years and slowly lost some of my vision I use art as a meditation, expression. I love this wild ride thank you.
---
Turkey
Tarık Tolunay (1970 – İstanbul, Turkey) Cartoonist, illustrator and CGI artist. He has produced cartoons, comics, illustrations and animations. He created a new style by blending his lines with traditional arts and digital technologies. His work focuses on city maps. It combines different time layers with stories. With his project called Fractal Istanbul, which took 10 years to build, he brings together the relationship between people and the city in extremely detailed and complex compositions.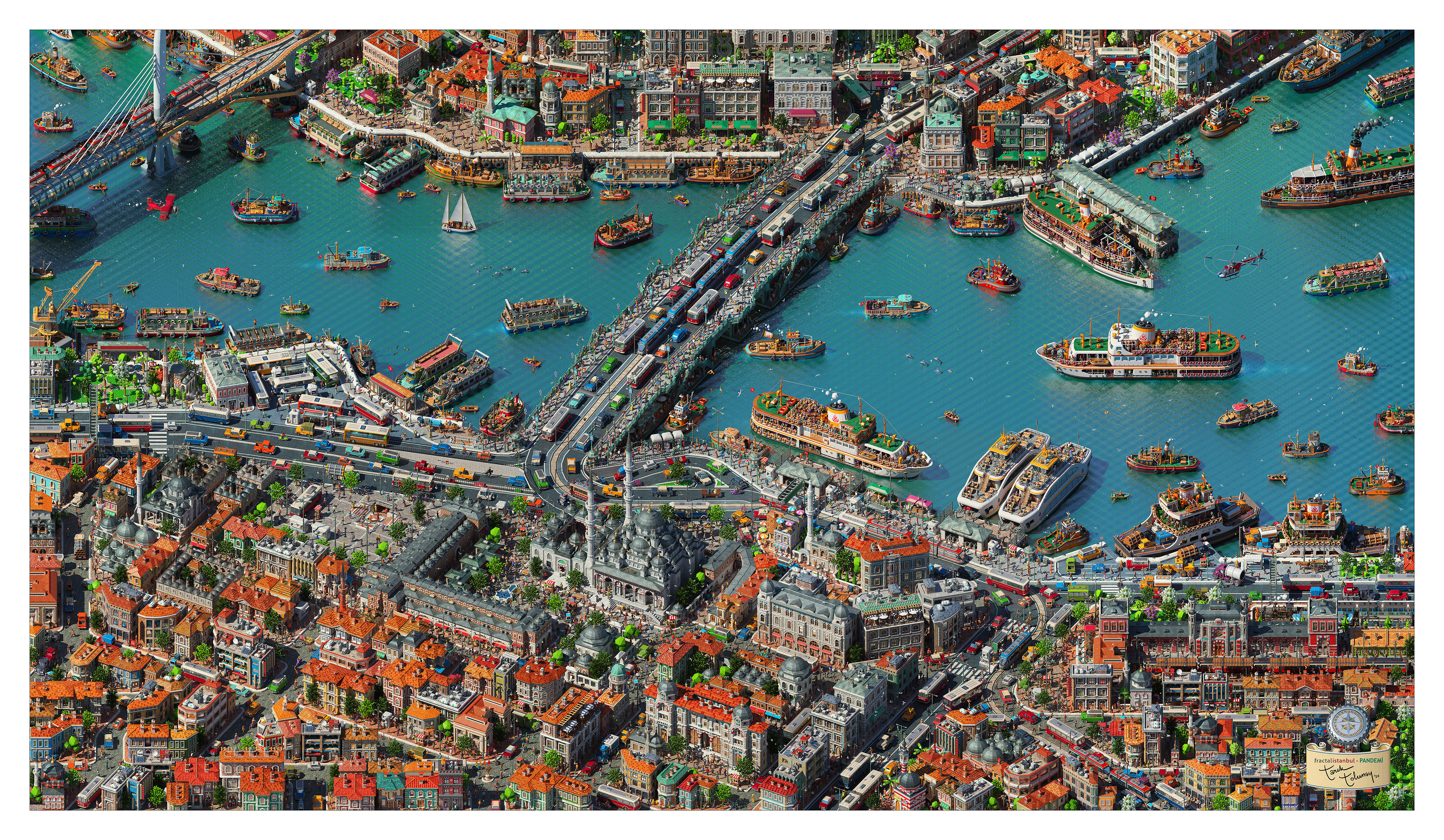 ---
Base Artist in Thailand,Born in 1982. My works reflect with a passion for cartoons, games and capitalism ,Create character from mind and Convey in a personalized way.
Art collected by Khoyai Art Museum ,Bank of Thailand.