This post originally appeared on "CC" CREATOR COLLECTION
Today I'm very pleased to welcome Raphael Lacoste. Maybe you are one of his 100K Twitter followers. If not, you've definitely heard of the globally famous video games that he is the lead Art Director on (Assasin's Creed & Prince of Persia).
He recently started minting crypto art on SuperRare (see it all here) and I sat down to get to know him and his work a bit better. Please enjoy this conversation!
All the best,
Creator Collection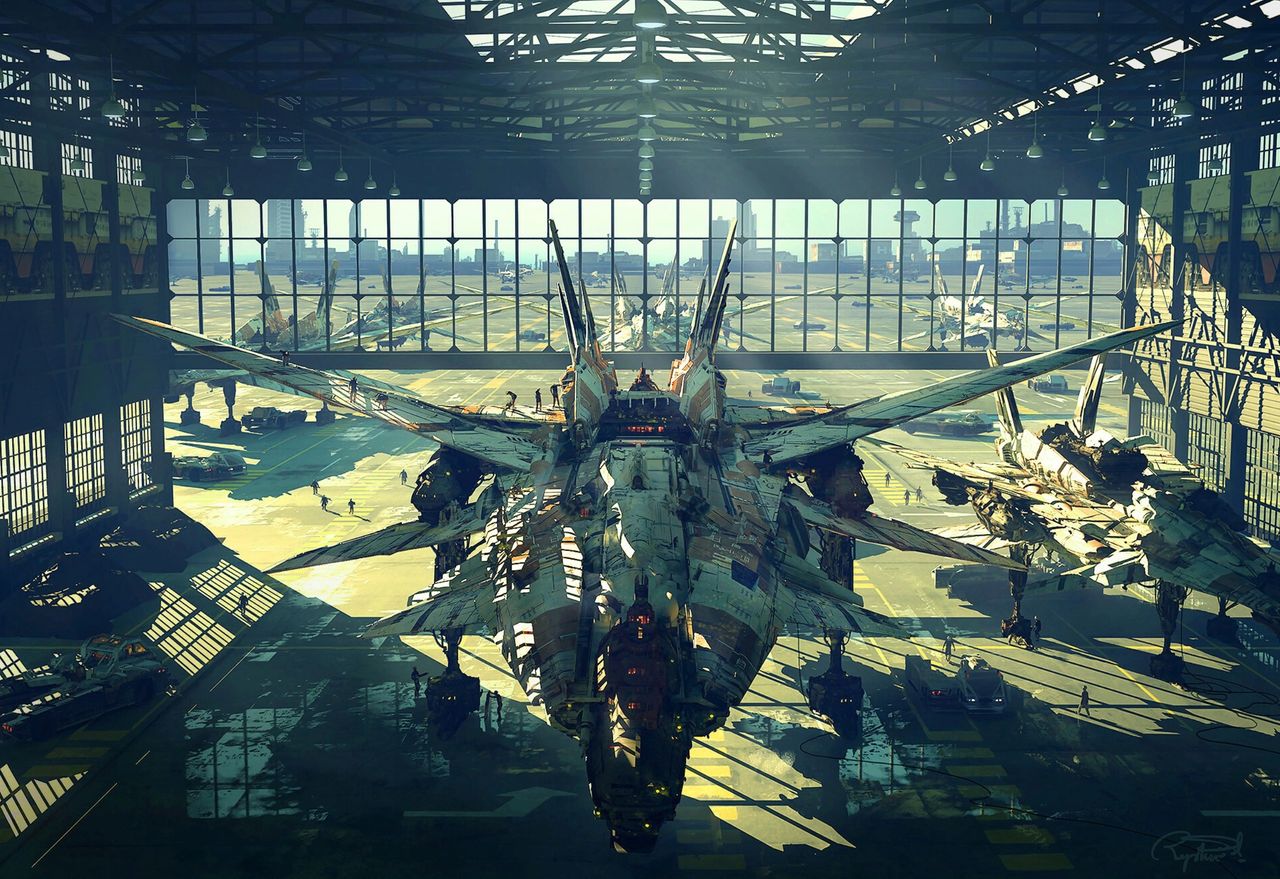 Raphael, thank you for joining me! You're a busy man. It means a lot to me and our entire community to hear from you. Much obliged.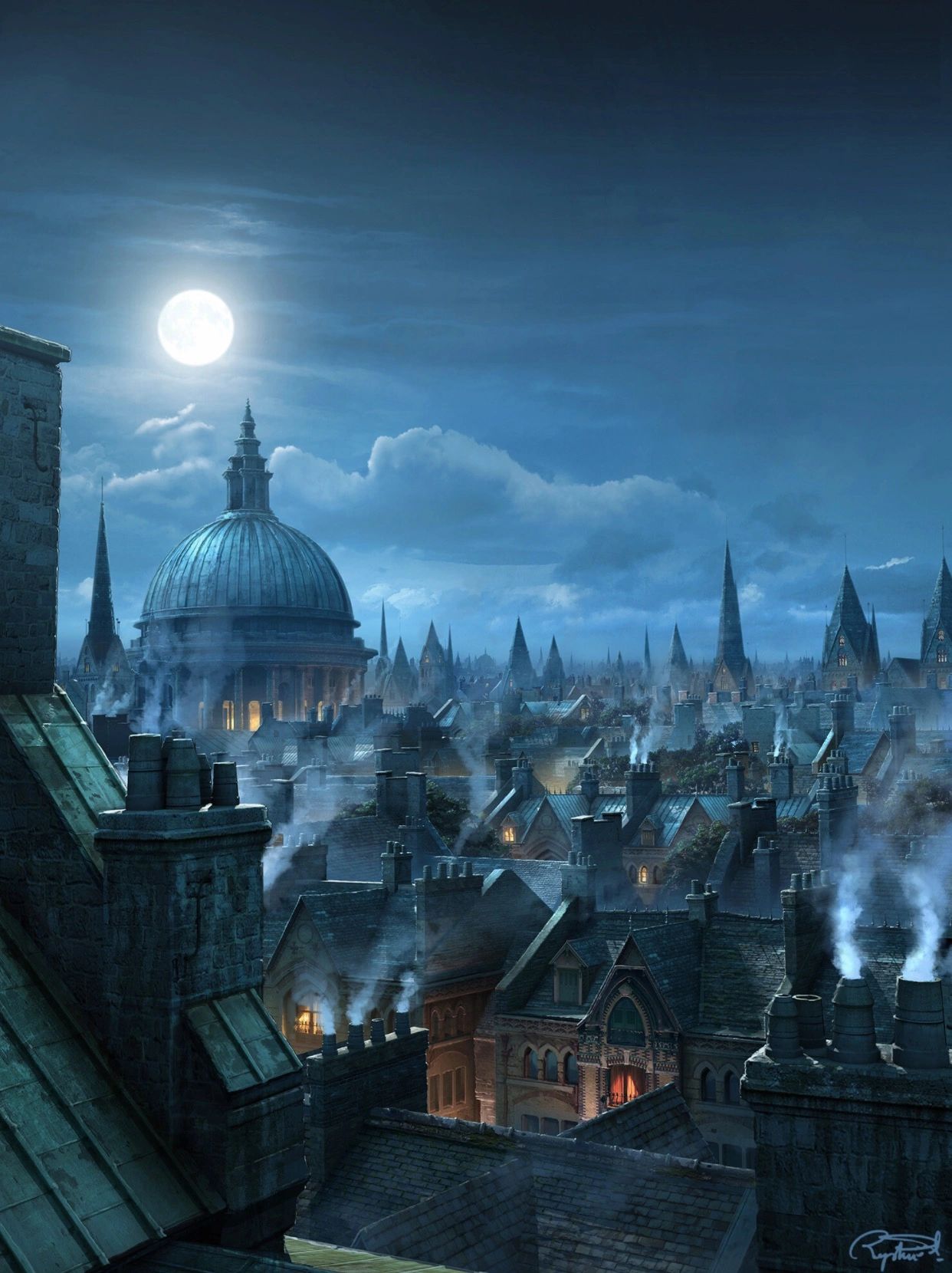 You are currently the Art Director for Assassin's Creed, worked on Prince of Persia and have several other film credits. What encouraged you to enter the world of NFTs?
Thanks a lot for having me on your blog! I think NFT can represent for a lot of professional Artists the dream of becoming more independent and live from your own art, pursuing your own vision and creative goals with a lot of freedom.
For sure, I also like my work, day-to-day challenges and feeling very lucky I had the chance to be part of great productions, being there since the beginning of Assassin's Creed.
I helped shaped the visual direction of several projects, and had the opportunity to bring to life with a very talented team several worlds and characters, Every occasion was very challenging and interesting, inspiring.
On the other hand, we can also get frustrated by having less and less time for ourselves, as artists , less creative freedom : we need to express our own visions and develop our own projects.
I feel crypto art can be a fantastic benefit to Artists who understand they can focus more on their own vision and spend more time defining their art,creating and pushing to the next level very personal pieces. There is no need to rush creations or to follow a trend in this field.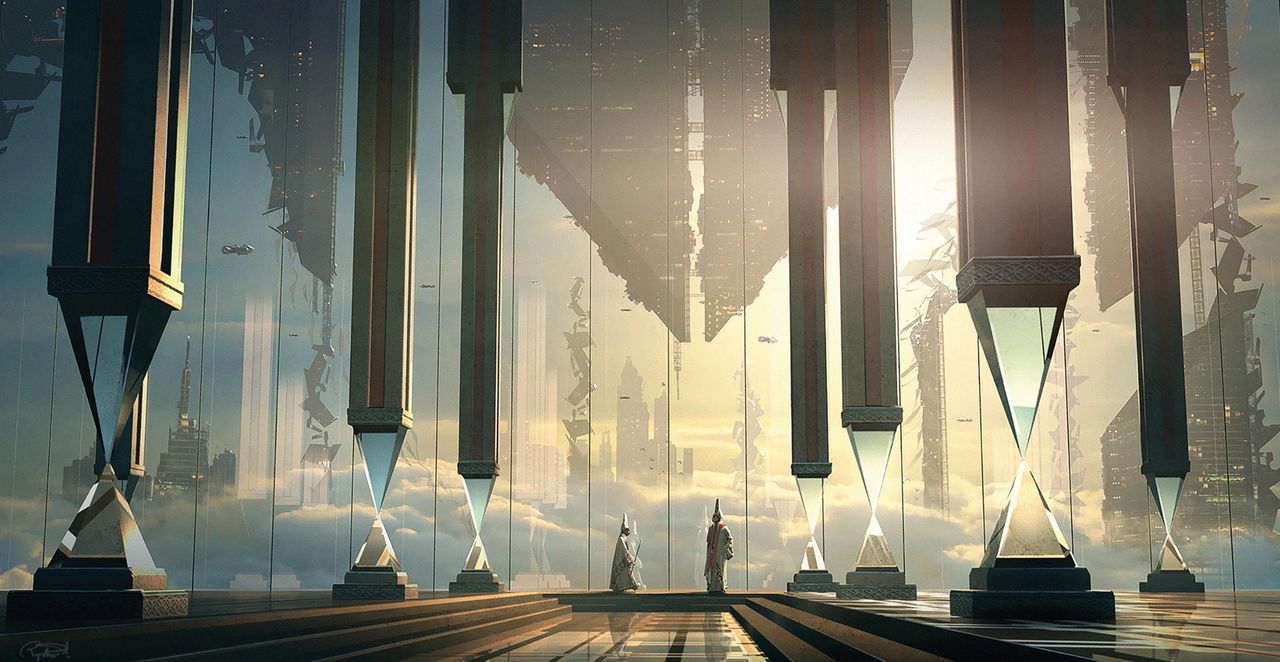 The description of your work on SuperRare is narrative-driven. For example, in your work "The Upside Down," you write "They did not say words for a long time, the space invited more to contemplation and wonder." What role does storytelling play in your creations?
This is indeed important, I feel, to have something to tell while making an image, you need to share meaningful things or moments, don't follow just a "trend" or please the eyes quickly, for an ephemeral satisfaction.
For me an image should be like a thought, to stay for longer. To my eyes, an Image is often an invitation to a journey, a window on a distant world, we need to dream, escape our reality and get inspired.
I also like to leave open questions, trigger curiosity, by not giving all the answers… it is important to leave open questions.
I don't write often but I thought for my drops on SuperRare , I would spend some time describing what I have in mind while making these pictures. I realised that before writing down, every story is just in my mind but doesn't necessarily end as a text .
For me, It's part of the process of creation. Usually, I take a long time before sketching and actually making the image, I think it is better because it gives me time to think about the place I want to bring to life, the mood, composition, the story… As my working time at home was limited, I used to process in my mind a lot before jumping on execution, and I think it's for the better, as I know quite well where I am going when creating in 3D or in Photoshop. The vision is clear and I can move forward.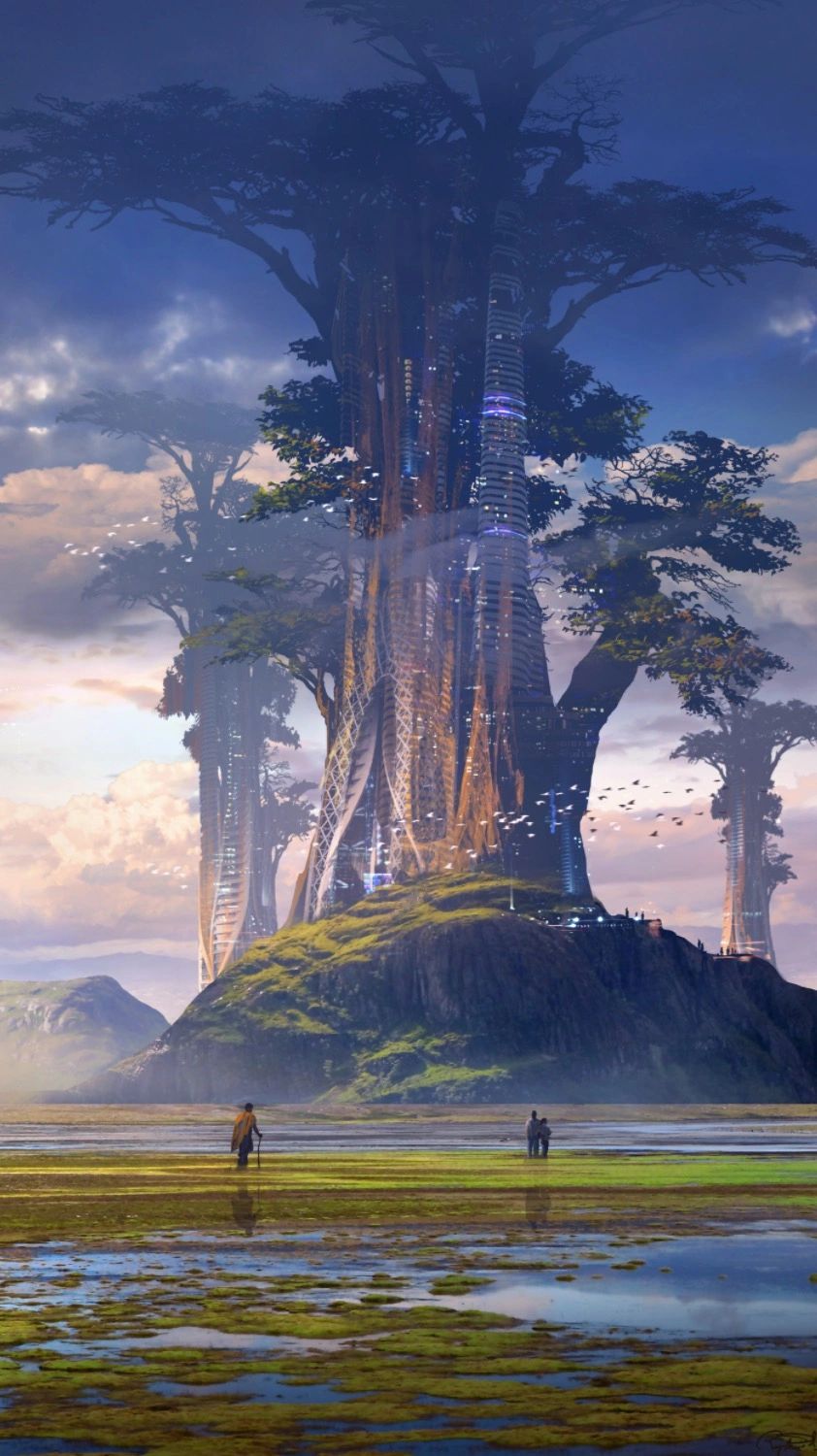 Another work that stood out to me was "World Trees." It blends a natural and futuristic aesthetic. What is the inspiration behind this piece?
Thanks ! Interesting question, Actually this original work was first inspired by a work I did for a book cover 'the Expert System brother", I own the right and intellectual property of this image and decided to revisit the artwork and mint it on SR. Also, I like creating book covers because inspiration is coming from a story, this is the other way around. If you read a text or a book, it triggers ideas, don't you experiment it shows images in your mind ? as an artist, you eventually want to bring these to life.
In this case, it was the tree worlds you might discover if you read the book. The book by Adrian Tchaikovsky is about a terraformed world, where they not only terraformed the planet but also the people. The people live in cities and villages under enormous "world trees" that they are connected to, and they created these "wasps" that fly about among the citizens that regularly inject people with the various nutrients and things they need to survive as well as periodically choosing people randomly to become "experts.". When they choose an expert the wasps then inject them with specialized knowledge such as medicine, engineering"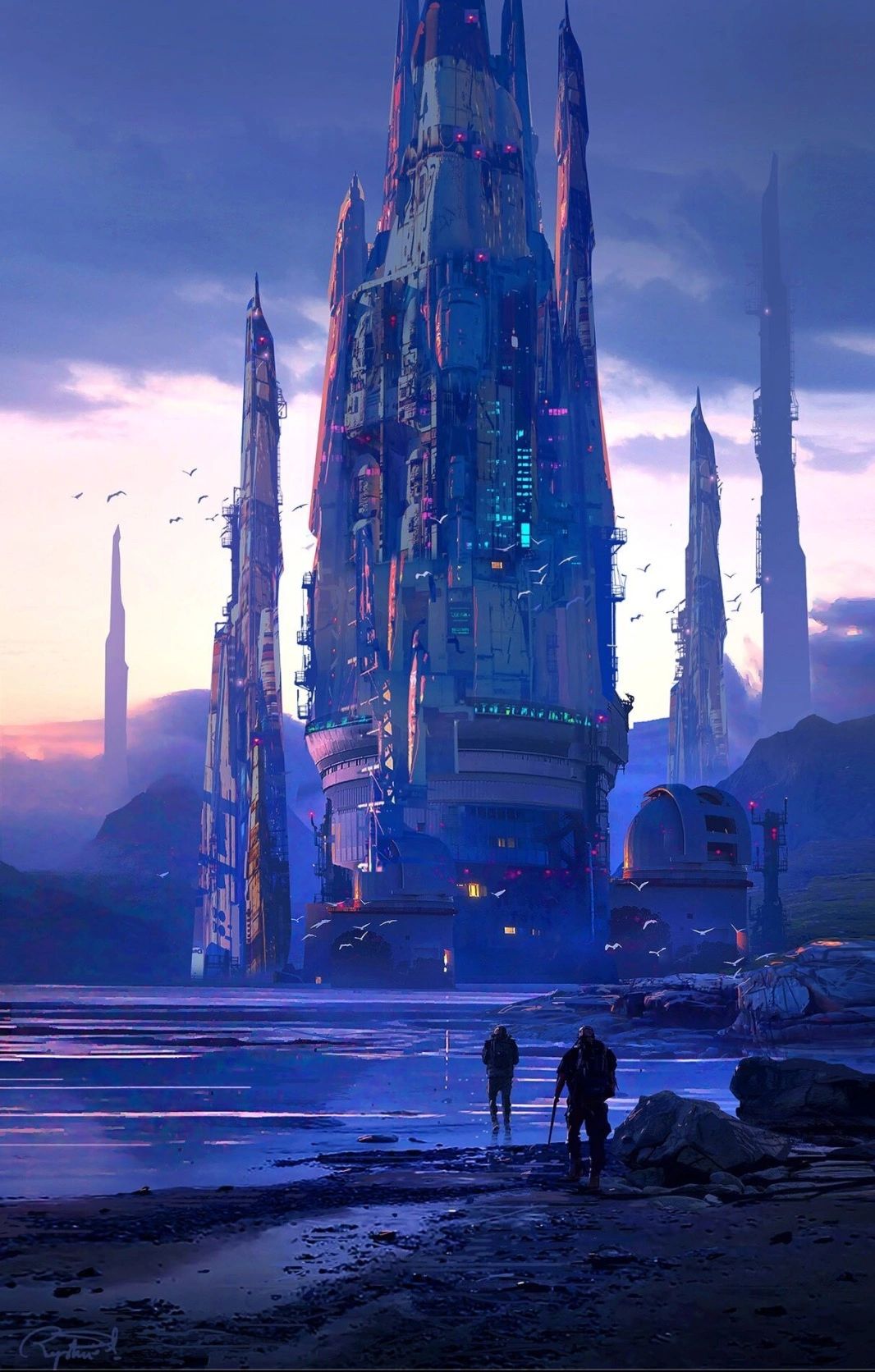 You call yourself a "world builder" on Twitter. How do you create immersive environments through your artwork?
Yes, so I hope it doesn't sound too presumptuous hahah, but after all these years working on building open world games and illustrations I feel this is what represents what I really enjoy while making art: building places, environment designs, worlds. I also created a book duly called "WORLDS", which brings together 15 years of illustration works from early 2000 until 2016. I am also working on a book project containing more drawings and new creations produced between 2016 and 2021 …
I consider the environment as a Character, for me a location has a resonance, a meaning and even if empty , could resonate from past stories or upcoming things.
This is what I consider in world building: creating places which trigger our curiosity and desire for exploration, while never answering all the questions, leaving some mystery which motivates the viewer to spend time watching, looking, exploring, coming back to the places… It is very important to consider such things when making worlds for games but I will create a bridge even for Visual Art, these things are also important in world design and illustration.
Details like sunlight hitting a hill in the distance, a far silhouette, a unique atmosphere in a landscape or a town, some overgrown vegetation on an ancient ruin, an iconic tree isolated in a forest… composition, perspective, colour palette, design… all these elements are important when building universes. and it is a dedication of a lifetime 🙂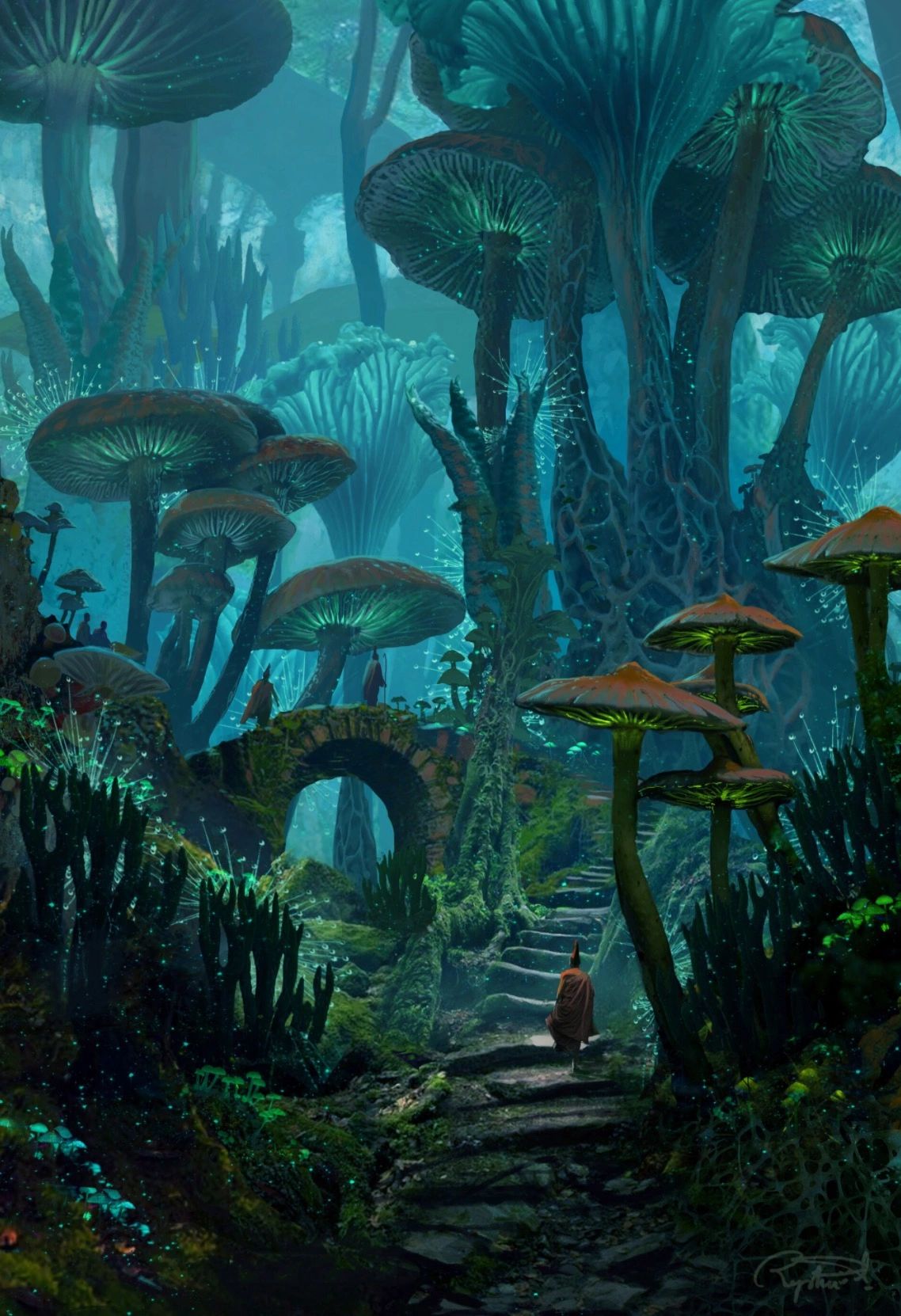 You sell tutorials on GumRoad about digital matte painting (see here for reference). What is Matte Painting, and how is it different from other digital art techniques?
Originally, Matte painting is considered as a Visual effect in movies, basically matte paintings were paintings on glass, filmed on top of the footage, used to extend a scenery of a film before being used with digital techniques. Very talented traditional artists were painting super realistic images directly on these surfaces and some of the most famous aren't even noticeable now as they were seamlessly extending the filmed area.
The idea is to have a part of the image that is filmed and another one extended and modified in a painting (now digitally painted). I recommend 'the invisible art', an excellent book about this technique and history of VFX in movies 🙂
The tutorials I have on my gumroad are showing how to use Digital matte painting techniques to create illustrations, using plates (actual photos you have been taking before) and taking the scene to a next level using 3D cgi renders and details digitally painted in photoshop for instance. You can use a plate of an airport shot and transform it in a Science fiction scene with spacecrafts taking off or an old temple moved into a fantastical palace in a fantasy world with giant trees …
Matte Painting is quite a technical breakthrough, but it can end in very complex and interesting environment paintings, which I personally like . I learned a lot when I worked in the film industry on such films as Jupiter ascending, Immortals 2011 or Terminator, these techniques helped me now to create credible and highly detailed environments I can push to the next level. I think in the NFT space, people like us coming from Concept Art can offer to the viewers and collectors interesting images with meaningful details where we can lose ourselves and spend time making up stories.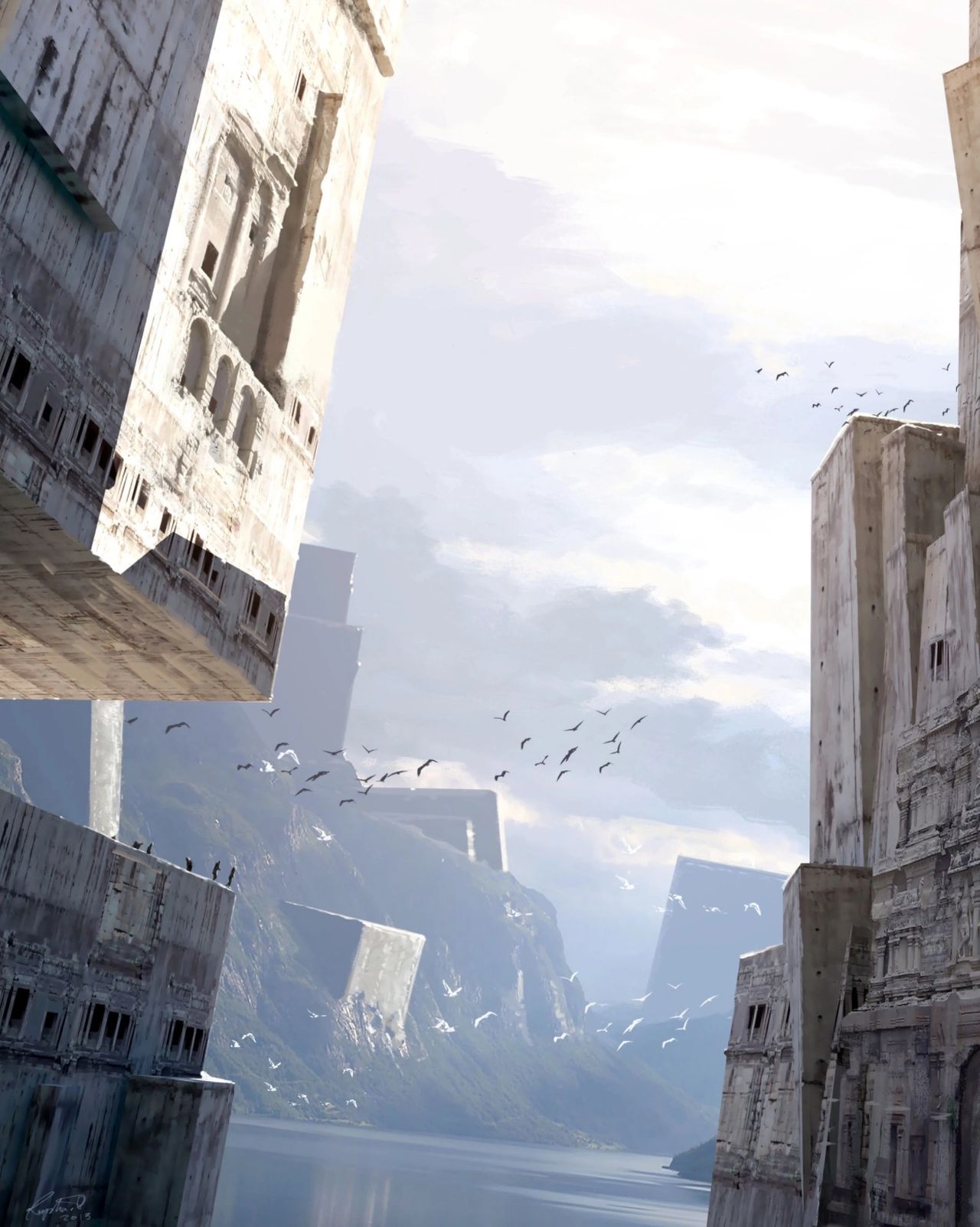 You recently shared a glimpse into your creative process (see here for reference). How has it changed over time?
My process definitely changed and evolved over time. I am coming from "game art' so my first illustrations were very 'CGI', after 2006 I wanted to spend more time exploring 2D techniques and learned matte painting and illustrations techniques in photoshop, following a few Gnomon Workshop tutorials and mostly working hard ahah.
I did a lot of digital paintings, also explored the 'no shortcut' methods like creating an illustration from the blank page in Procreate app on iPad (no 3D, no photobashing techniques) back to basics!
In 2015 I even came back to traditional sketching and released an artbook 'lignes' which brings together only my last created black and white drawings, mostly sketches on paper.
While preparing this work, I saw my traditional drawing technique improve in 2 years, hard work will always reward yourself.
it is like in sport or music when you want to play an instrument… Every single technique you learn is helping you to become a better artist, with hard work there is no age to start and get better at your craft !
I can say now that I came back to a mix of 3D and digital painting, trying to take the best of the both worlds together.
Where do you see yourself and your artwork in 5 years?
I am always looking for new challenges, one thing is sure: I want to go for the long run and learn more while creating, spend more time defining my personal projects, try to offer more interesting worlds to explore. 🙂
Recently, I eventually came back to my "origins' with the 3D techniques, and improved the rendering with my new professional experiences, I want to spend more time on very polished images using mixed mediums.
If we are talking about NFTs and SuperRare drops for instance, I really want to work on more exclusive pieces and I will take my time, no need to rush here. I would like to also experiment with a few animated creations, using different techniques, allowing to bring immersion to a better level. I am doing a bit of music too, like sound design techniques, so I think there is room for new challenges and a bit more immersive worlds to come !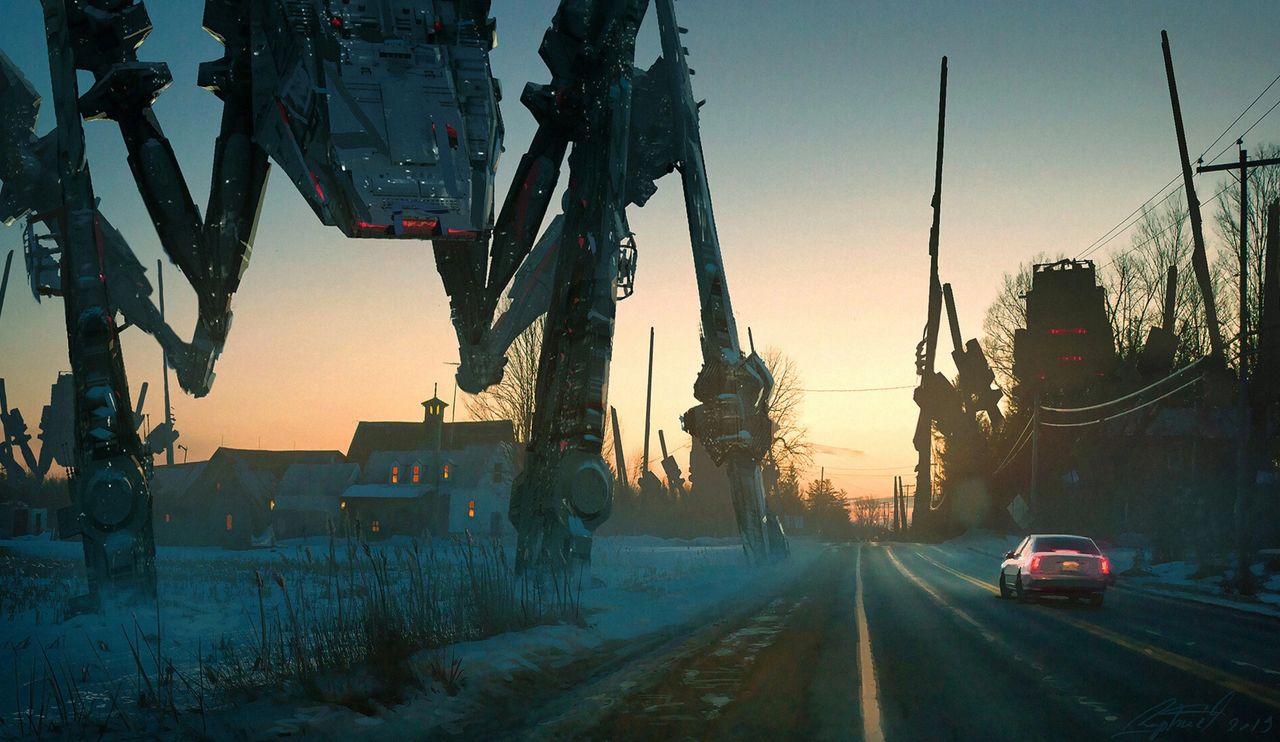 Exclusively 1/1 collector. Follow me on Twitter where I share stories about crypto art and inspiration. 10% of all my secondary sales will be donated to carbon sink and climate change non-profit initiatives.